For the past few years, we've seen a significant rise in the use of structured data across websites. At this point, it is a necessity in every good search engine optimization campaign. But what is it, and how should we use it?
Okay so basically structured data is code on a website that specifies what the content is to search engines. This can be anything from reviews, product prices, and even things like the exact coordinates of your business! What is being accepted as schema markup is constantly being updated.
One of the benefits of implementing structured data into your website is that Google takes this information and creates what they call "rich snippets." You've most likely seen these rich snippets among your search results when searching for popular content such as news, recipes, products, etc.
Take a look at what happens when we search for a "Manhattan Cocktail Recipe"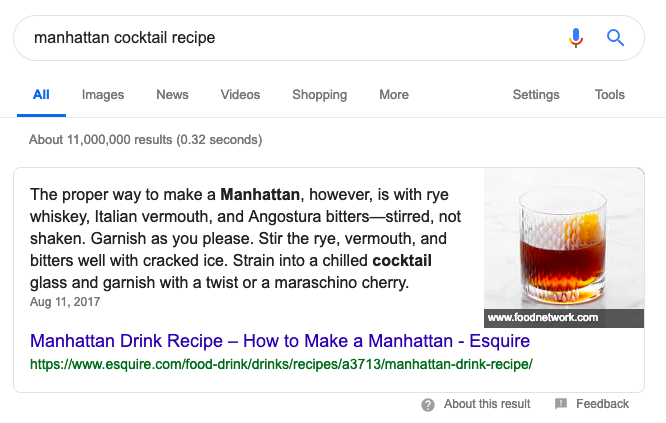 You will notice that the top result is a rich snippet! This includes a brief description of the recipe, a link to the article, and an image for the article. What's interesting is that the description is being pulled from "esquire.com" although the image is being pulled from "foodnetwork.com." Google is always going to be unpredictable when displaying your site in search results.
A little bit further down the page, we can find another example of websites using schema markup, displaying reviews for their recipes.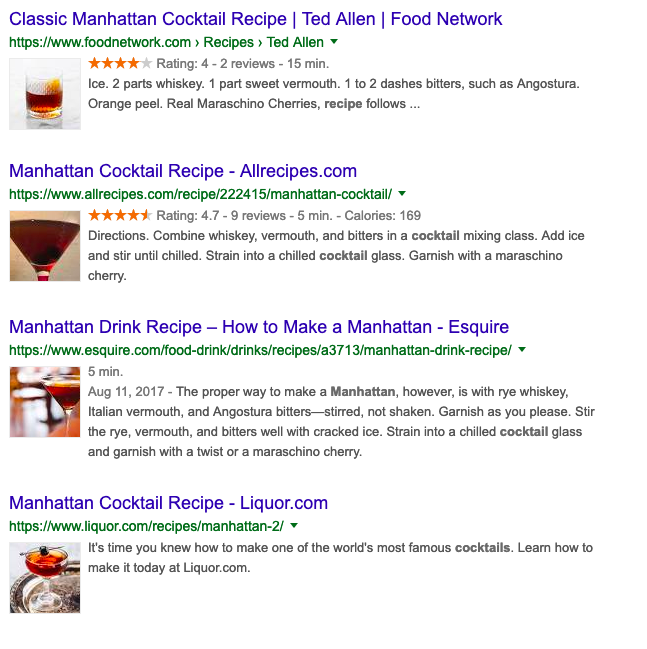 There are a ton of other formats of these rich snippets, but long story short, just know that structured data or schema markup helps search engines crawl the information on your website easily.
What is Schema?
Schema.org is a collaborative effort started by Google, Bing, Yahoo in June 2011 to maintain and promote websites to use a standard regulated format of the schema markup.
What is the difference between schema and structured data?
Absolutely nothing. There are basically different terms for the same thing. As Aphex_tw1n from Reddit says:
How To Create Structured Data?
You can generate your own data using Googles Structured Data Markup Tool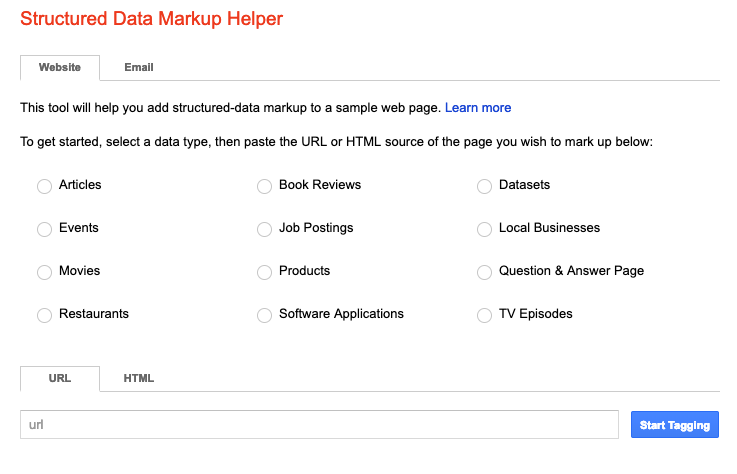 Looking for help adding schema markup to your website? Click here to contact our team of search engine optimization professionals today. You can also check out some of the web design services we offer here
---
Vox Digital is a Calgary website design and digital marketing agency. This is our blog where you can find tons of free marketing resources! If you're interested in anything we do, feel free to contact us today!
All author posts